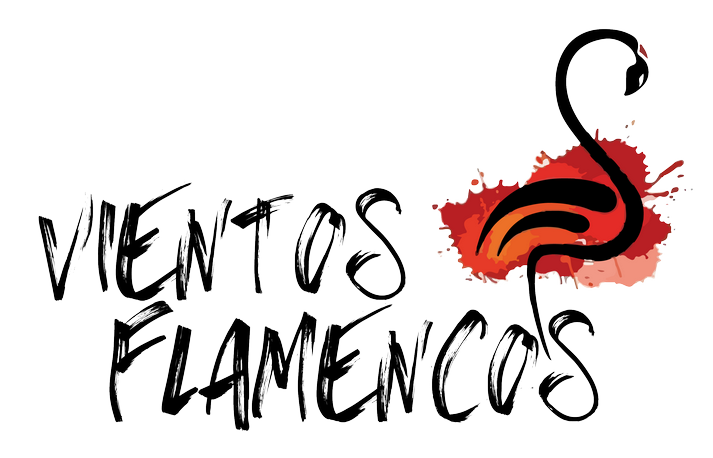 Vientos Flamencos was founded on 2016 in Corralejo (a little town in Fuerteventura, Canary Islands). At the beginning was a two members band with Isaac from
Almería (Andalucía, Spain) the guitarrist, singer and composer; and
Leopoldo (Rimini, Italy) the percussionist and flautist.
They started singing some covers in the bars, on the street... until other
musicians that were living on the island started joining the band.
Now the band is composed by 5 members.
There is Natalia with Colombian and Galizian roots, singing and playing the bass,
Jorge (Necochea, Argentina) playing the electronic piano and
saxophone; Remy (Paris, France) playing the harmonicas. They play
some flamenco fussion, mixing Latin riddims, with funky, reggae,
bossa with rumbas, bulerias and much more!
VIENTOS FLAMENCOS music take its inspiration from what happen in the band members life. Some times it's about love, reflections about society, stories of friends and most of the times it's all about the passion to live a dream.
The New album have been recorded in Lajares (Fuerteventura) trying to capture carefully the magnetic and honest sound the band offer during their concerts. The band love to collaborate with other artists and in the new album there are some featuring as with Davide Garattoni, Federico Codice and Daiana Lou.
The sound of the band is inspired by the warmth of the beautiful island of Fuerteventura, a place that with its colours and landscapes surely shaped the flamenco they played with some tribal rhythms and gipsy melodies.
The band did the first European Tour in summer 2022.
11 different countries, 39 gigs in 2 months driving 18.000 km with the band's van.
The band had a great success in any place they played. For the first time the name of VIENTOS FLAMENCOS started to become a bit bigger also outside Fuerteventura.
If you want to live a passionate flamenco experience, VIENTOS FLAMENCOS is the right choice.

WE ABSOLUTELY AGREE! Hope, YOU, dear festival guests of "Altstadtzauber 2023" ALSO WILL ...
STAGES/PLACES & SHOWTIMES
15:15 - 15:45 - Kramergasse Süd
16:15 - 16:45
- Kramergasse Süd
19:30 - 20:30 - Stage 3
(Alter Platz)
21:15 - 22:15 - Wienergasse